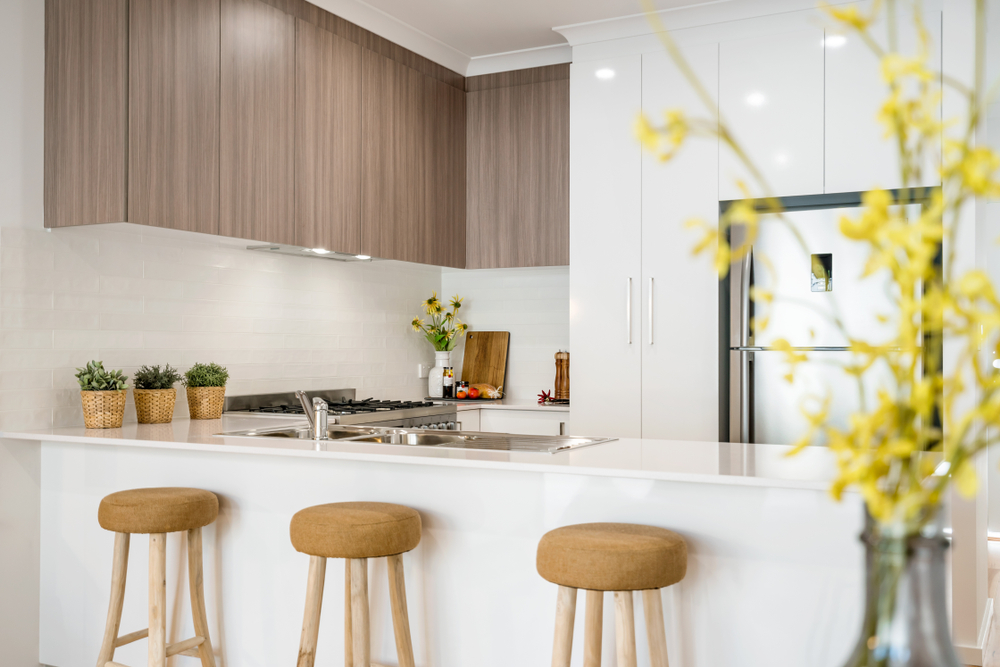 Make Beautiful Kitchen Counters with Caesarstone Benchtops
Caesarstone benchtops are made of engineered stone which is composed of a mixture of stones that are crushed and then bound together with a super adhesive. Frequently, the end product or caesarstone benchtop in this case is produced from stone and quartz. This engineered product is mostly used in the kitchens for making countertops.
Caesarstone has been in use since a long time for kitchen decoration purposes:
Caesarstone does not have a long history; it made its entry as recently as 1987 when it was first developed. Caesarstone is mostly composed of quartz which constitutes approximately 93% of the end product and rest of the material is the high quality adhesive or polymer resins.
Sometimes certain pigments are also added along with the polymer resin, and this whole mixture of quartz and polymer resin along with pigments are compacted under high pressure and vibrations in a vacuum resulting into dense and impermeable solid slabs.
The end product thus obtained has all the qualities of a stone, like smooth finish and comes in various designs and colours because of the added pigments.
The lustrous shine and its super smooth surface is a permanent feature of caesarstone benchtops since these stones are non-porous or impermeable. It is a highly desirable material for making kitchen countertops because of its stain resistant qualities. It is also aesthetically very pleasing since it comes in a variety of designs and colors.
Manufacturing Caesarstone benchtops
The manufacturing process of caesarstone benchtops involves the following steps:
Gathering and crushing the material – this part involves obtaining quarried stone in its raw form, sometimes even in the form of big boulders. These stones or boulders are then crushed into appropriate sized granules called agglomerates.
Compacting the slab into appropriate thickness – the process involves compacting the crushed mixture or agglomerate into dense slabs under high pressure and vibrations in a vacuum chamber. After formation the slab is cured for about a week.
Processing the slabs into countertops – once the caesarstone is ready it is made into strong and beautiful tiles or countertops.
The resultant product is an impermeable, flexible, hard and a beautiful stone. All these qualities make the stone resistant to mound fungus or mildew which affect other stones. The stone produced is not only solid, hard and robust but also has a uniform and balanced internal structure that prevents any kinds of hidden cracks.
Care and maintenance of Caesarstone benchtops
Caesarstone benchtops are stain resistant and do not get discolored easily. However, for prolonged use and longevity of the stone a certain amount of care and maintenance is essential. Many companies providing caesarstone benchtops will also provide a care-kit which usually contains specialized products like special cleaning cloth and instructions about how to use the cloth for cleaning the countertops. Direct application of heat can sometimes damage the countertops so when you buy the benchtops, please ensure that you get the sturdier varieties that can last long, and that can actually enhance the aesthetic appeal of your kitchen to a large extent.
Caesarstone benchtops have smooth surface and its colour variations elevate its aesthetic looks. It is not only good to look at but even its touch feels so cool and smooth. The use of stone in kitchen not only makes it appealing to look at but it also makes it look rich and enhances the overall value of the property. Cost wise it is not very expensive, as compared to laminate tops it is just slightly more expensive. But its use can enhance the value of the kitchen and the whole house manifolds. They can easily be purchased, and you can contact with any benchtop supplier for getting the best varieties of stone and stone variations which can lend a uniform look to your kitchen.
benchtops
caesarstone benchtops
kitchen countertops