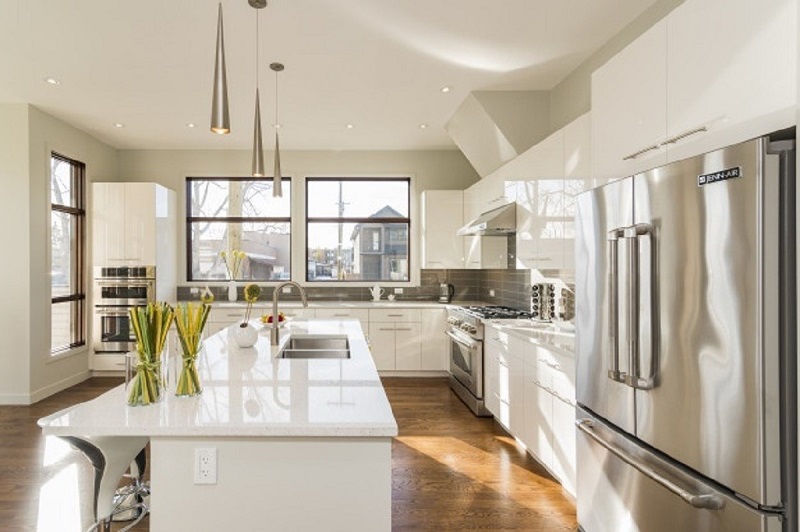 Here's A Step-By-Step To Doing Kitchen Renovations
If you are not aware of the term "Kitchen renovations", don't worry at all. We are here to guide you through a step-by-step process to doing renovations in your Kitchen. Simply means upgrading new features and finishes to your Kitchen. In contrast, the basic layout and the foundation of the Kitchen remain the same. If you have a lot of unused space or a congested space in your Kitchen, it is time to renovate your kitchen.
A better kitchen designer may aid you to determine what parts of the Kitchen need to be replaced or updated. It may include adding new flooring, fixtures, appliances, cabinetry, countertops, sinks, and lighting fixtures. Adding a kitchen designer while renovating the Kitchen will renovate your entire kitchen space to look brand new in your estimated budget.
Why opt for kitchen renovations?
The Kitchen is the busiest area of most houses; therefore, upgrading your Kitchen with the latest designs and functionalities is necessary. Read on to know further the reasons to do kitchen renovations.
To Upgrade the Design and Style- it might be that you are not satisfied with the design or colour of your Kitchen. You will spend most of the portion of your day in the Kitchen, so make sure that it fits and suits your taste in design and colour. Therefore, it is important to renovate the Kitchen with your taste of aesthetics.
Improve overall functionality of the kitchen – you need to renovate your Kitchen to improve the everyday functionality of the Kitchen. If not updated from time to time, it might create a lot of inconvenience and awkward configurations.
Meet your family needs– kitchen renovations – help you provide more seating space, large refrigerators, oven, and burner options.
Increase energy and water savings– upgrading the Kitchen with the latest technology and appliances can save your energy and water billings to a great extent. Suppose your Kitchen is just chocking full of energy-sucking appliances such as heavy refrigerators and ovens. In that case, you need to renovate your Kitchen.
Types of Kitchen Renovations:
There are commonly three types of kitchen renovations available in the market. They are cosmetic kitchen renovations, custom renovations, and remove and reinstall kitchen renovations.
Cosmetic kitchen renovation– this type of Renovation is the simplest Renovation that replaces the items which can be easily removed from the Kitchen. This could include new hardware on your cabinet doors, a new countertop, new appliances, or a fresh coat of paint in the Kitchen. It is mostly done when you are selling your house and just want to upgrade few things to put your house on market value.
Custom kitchen renovation– the custom kitchen renovation can give your imagination a reality. It can create the Kitchen of your dreams. The sky is the limit for these kinds of renovations. You can create more space or can completely change the layout of your Kitchen.
Remove and reinstall renovation– this type of Renovation takes the cosmetic kitchen renovations a step further. In this type of Renovation, you can remove the items from your Kitchen and reinstalls them in the same location. It means that the spot and layout of the Kitchen do not change with reinstall renovation.
To choose the Renovation best suited to your Kitchen, find out why you are renovating, such as relocating fixtures, changing the layout, or making space. The answer to the reason will help you choose the ideal type of Renovation.
Mistakes To Be Avoided While Renovating the Kitchen:
Do not choose any wrong kitchen designer in haste. Take a reference from friends, relatives, online media, or other sources for selecting the best kitchen designer. Do not forget to create a budget, as, without proper planning, you will spend more. You should be aware of the reason why you want to renovate your Kitchen. A ship without a compass will not succeed here, and you may not get a good renovation experience.
Before going for kitchen renovations, always formulate proper planning of the entire renovation process. This way, you can give your old Kitchen a brand-new look within your budget.
kitchen renovation
renovate your kitchen