If you want to experience the real beauty of outdoor lighting, try walking or cruising through a well-lit neighborhood at night. The experience is usually worth it.
Many of us think that illuminating our outdoors requires a huge investment, but that is simply not true.
Do you know you can make your home glow with only a little investment and effort? Additionally, you can do many of the outdoor lighting ideas yourself – just using the things you have.
Night-time outdoor events create lasting memories, especially when your outdoor is well-lit. Imagine the barbecues with friends, night weddings, birthday celebrations, and other backyard events, or a simple evening looking out to the night skies.
How do we get well lit outdoors happening?
In this article, we shall walk you through some of the many outdoor DIY lighting tips and ideas to keep your backyard illuminated.
DIY Lighting Ideas
#1. String lights
If you have trees surrounding your home, then it's time to make good use of them. String lights provide subtle light when placed throughout the trees.
You shouldn't worry so much if you have no trees – you can still string these lights through poles or even around your house.
You don't need to keep your string lights plain white. Add some multicolored festive bulbs to make things interesting.
Although string lights look like glass, they are made of plastic – making them less fragile and ideal for outdoor use.
#2. Spell it out
If you are hosting a wedding or birthday party, you can use the couple's or birthday boy/girl's initials  to make a dramatic statement. Lit-up letters can be positioned anywhere – against the wall or fence or on your lawn.
The letters or statements glow and are visible from a distance. You may use lights of different colors to create a picturesque scene. If well designed and spelled out, your outdoors could be the talk of the town.
#3. Create a fire pit/table
This is the most natural DIY lighting idea you can ever have. Try creating a fire pit and position it around a seating area.
The fire pit will not only provide light but also give you heat during the cold nights so you can enjoy the outdoors with some level of comfort.
However, don't make the fire so big as this can easily become a fire hazard. Distance it a little further away from the furniture and other flammable materials such as patio drapes and curtains.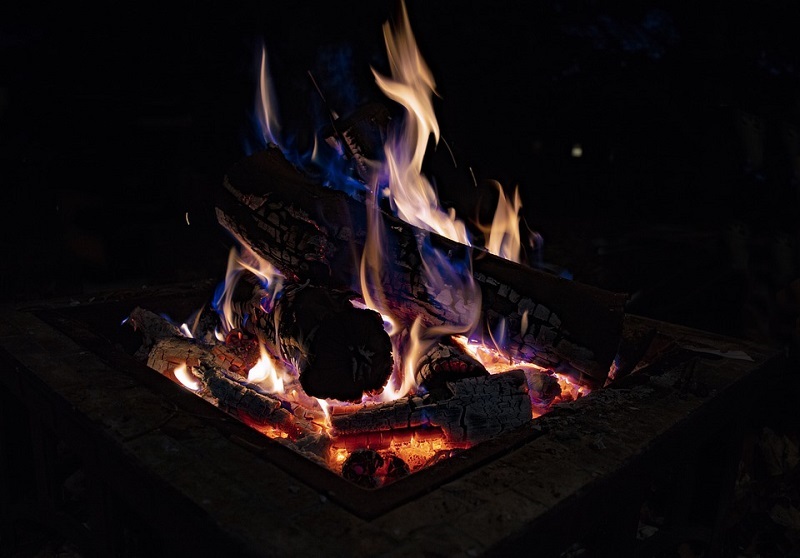 #4. Twinkling topiary trees
Create an inviting entryway to your home with twinkling topiary trees. These are small trees with lights entwined in their foliage.
Topiaries are small trees, often placed in small buckets. If you don't have real topiaries, fear not. You can use faux ones to create the same effect. Faux topiaries, being weather-resistant, will serve you all year round.
Well tended topiary trees also create curb appeal for your home during the day.
#5. Solar lights
Solar lights are great for outdoor lighting.
The lights are powered by a battery that is charged during the daytime by the sun.
When installing solar lights, make sure you position them well so that the solar panel receives enough sun to charge the battery. Alternatively, if the solar panel is movable, you can place it where it receives the most light and move it as the day progresses.
Solar lights are easier to install as they don't require an electrician to come and wire things up. They are also cheaper as the only cost will be the initial purchase, no recurring electricity bills. Now, that's a cool idea.
#6. Table lights
Table lights are perfect for creating an easy ambiance. If you plan on having dinner with family and friends outdoors, make sure your table is well-lit.
If you can't or don't have time to install bulky lights or ceiling lights for your dinner, then table lights will save the day.
The table lamps are placed on patio tables and if placed well, they create an atmospheric and intimate dining experience. They do not require cables or cords, making them an easy option.
They come in multiple colors, great for evoking different looks.
Cool diy lighting tips
Here are some expert tips to ensure your outdoor lighting is great.
#1. Don't make your neighbors uncomfortable
Don't just focus on your needs and forget you have neighbors who may be affected by your outdoor lighting. This is especially true when you are using very bright lights.
As much as it is ok to shed some light on your neighbors' home, do not make them feel uncomfortable.
Consider this as you position your outdoor lights. Do not focus the lights directly into your neighbor's windows.
You can place the lights facing down, up, or in a safe direction that won't disturb the comfort of your guest or neighbors.
Remember: Be kind and do unto others what you would like done unto you.
#2. Use solar-powered lights
Solar-powered lights are not just easier to install, they save energy, keep your electricity bills manageable, are very sustainable and good for the planet since they use renewable energy.
However, when installing solar lights, you need to place the solar panels in an area that receives adequate sunlight. This way, the batteries will receive enough energy to power you all night. Nothing quite like having the lights go out halfway through your outdoor dinner or event.
#3. Do not overdo the lighting
You know what they say about 'too much of a good thing'? Well, this applies to outdoor lighting.
Having too many outdoor lights will consume a lot of electricity, irritate your neighbours and put quite a dent in your wallet.
How do we ensure that a few lights produce the maximum output?
If you have epoxy flooring on your patio, you only need to focus a few bulbs facing down. Since epoxy flooring is shiny, it will reflect the light thus lighting up the whole area.
Bottomline
You don't need to go into so much effort to illuminate your outdoors. With a little investment and creativity, you can turn your dull outdoors to a nice well-lit space. With the above ideas, you will well be on your way in no time.