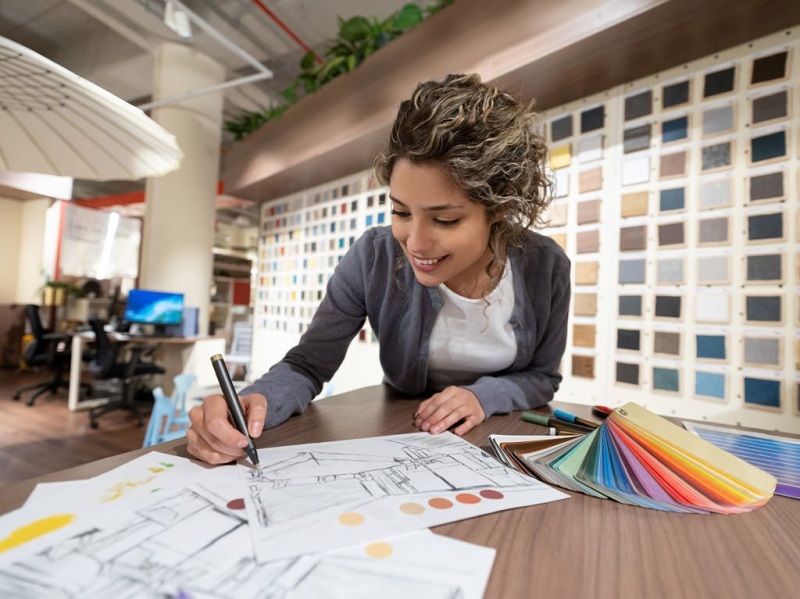 Home Interior Design Tips: The Art of Hanging Landscape Paintings
Without a doubt, you must design you home interior in a manner which is an extension of your own personality, and which suits your liking. However, if you are a bit confused regarding how and where to place the magnificent landscape painting recently bought by you, then here are some of the best kept secrets which can help you in revamping your current space.
Hanging paintings above furniture:
Most of the people don't have plain blank walls with nothing to their side. If your room is filled with beautiful furniture and you are looking for ways to add beautiful paintings in there, then there is just one tip that you need to keep in mind. Whether you have landscape art painting or a figurative one, irrespective of its genre you can incorporate it seamlessly by making sure that the frame of the painting fits right in the centre of your furniture. There is no detailed mathematics involved in this, all you need to do is to consider your piece of furniture as the stencil and place your painting in a manner that it comes at the midpoint. Another handy tip here is to ensure that the colour and texture of the frame matches that of your furniture. Adherence to these two advices will ensure that you are able to hang your paintings perfectly over the furniture.
The way of hanging paintings above a desk:
Mostly, place above the desk is empty and it is quite tempting to hang a piece of landscape art just above it. However, you need to remember that it is a good idea to hang paintings a bit higher above your desk. This way both the articles—desk and painting— will be able to get notice. The desk and the painting both are beautiful in their own ways, and you surely don't want one to overpower the other. Distance between the two helps in making that clear distinction. If you decide to have a bigger painting, then most certainly it should be hanged at a considerable distance from the counter. This will help is admiring its beauty even from a distance.
Hanging art above a sofa:
Size of your landscape art is significant over here. You need to ensure that the painting is smaller in size than the sofa. Just like the previous point, ensure that a significant amount of difference is there between the sofa and painting. Generally, the art is placed at the eye level and that is one rule which is followed. However, as everyone has a different height so this might not work perfectly well for everyone. As a matter of fact, the safest way to hang your painting is by leaving the equal amount of space between the painting and sofa as it is between the painting and ceiling. To frame it in other words, the painting should be equidistant from the ceiling and sofa. This will ensure that the painting is adequately placed, hence looks beautiful.
Hanging painting above a bed:
One integral tip which can help you place the landscape painting aptly over your bed, is by ensuring that it is centred horizontally. Unlike the previous point, there is no restriction of the painting being proportionate in size with the bed. However, huge statement landscape art might not look the best over a bed as they would on a plain blank wall. It is better to play safe and place a painting of smaller or equal size as your bed. But if you have a bed with a wider headrest then try to place smaller pieces of art above it as a big painting might end up looking clustered.
Hanging art on a large blank wall:
If you have a blank wall and have no idea what to do with it, then a magnificent landscape art is your best friend. As there is no other piece of furniture or decorative article to fill in the space, hence, you need to make sure that the painting itself is sufficient to fill in all of that space. Surely, it doesn't have to be that big that it touches the ceiling and the floor, but it needs to be big enough to make a statement while camouflaging the blankness of the wall.
You must remember that these are just tips and there are no hard and fast rules pertaining to the way that you can hang the landscape paintings. Based on your taste and preferences you can experiment and chose the way which suits your liking.
For more information available at Homeimprovementwow.com
home interior
home interior design