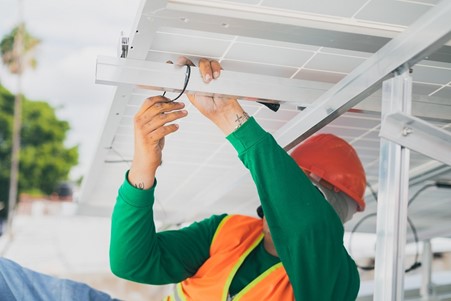 How to Choose the Right Commercial Electrician for Your Needs
Choosing the right commercial electrician for your needs is crucial to the success of your electrical project. Whether you're a business owner, property manager, or contractor, you need to ensure that the electrical work is done professionally, safely, and up to code. With so many electrical contractors on the market, how do you find the best one for your specific needs?
This article will guide you through the process of selecting the perfect commercial electrician, covering important factors:
1. Understanding the Importance of a Commercial Electrician
A commercial electrician specializes in electrical work for businesses and commercial properties. They have the knowledge and skills to handle complex electrical systems, installations, repairs, and maintenance tasks that are unique to commercial buildings. Some of the services offered by commercial electricians include:
– Electrical system design and installation
– Lighting design and installation
– Electrical repairs and maintenance
– Emergency generator installation and maintenance
– Electrical safety inspections and code compliance
– Energy-efficient upgrades and retrofits
Hiring a professional commercial electrician ensures that your electrical project is completed safely, efficiently, and in compliance with local and national electrical codes.
2. Licensing and Certification Requirements
The first step in choosing a commercial electrician is to verify their licensing and certification. A licensed electrician has completed the necessary training, passed a comprehensive exam, and met all state and local requirements to practice their trade. In addition to state licensing, many electricians also hold certifications from professional organizations, such as the National Electrical Contractors Association (NECA) or the Independent Electrical Contractors (IEC).
When evaluating potential electricians, ask for proof of their license and any relevant certifications. This will help ensure that you are working with a qualified professional who is committed to upholding industry standards and best practices.
3. Experience and Expertise
Experience is another crucial factor to consider when selecting a commercial electrician. An electrician with years of experience in the industry will likely have encountered and resolved a wide range of electrical issues, making them better equipped to handle your project efficiently and effectively.
In addition to general experience, consider the electrician's specific expertise in relation to your project. For example, if you require electrical work for a restaurant, look for an electrician who has completed similar projects in the past. This specialized knowledge will help ensure that your project is completed to your satisfaction and in compliance with industry-specific regulations.
4. Reputation and Reviews
A commercial electrician's reputation can provide valuable insight into the quality of their work and their commitment to customer satisfaction. Ask for references from previous clients and check online reviews to get a sense of the electrician's overall performance. Keep an eye out for consistent themes in the feedback, such as timeliness, professionalism, and attention to detail.
While it's important to consider both positive and negative reviews, remember that no business is perfect. Use your judgment to determine whether any negative feedback is a deal-breaker or an isolated incident that can be addressed with the electrician.
5. Insurance and Liability Coverage
Electrical work can be dangerous, and accidents can happen. To protect yourself and your property, make sure that the commercial electrician you choose carries adequate insurance coverage. This should include general liability insurance, which covers property damage and bodily injury resulting from the electrician's work, as well as workers' compensation insurance for their employees.
Ask potential electricians for proof of insurance and verify that their coverage is current and sufficient for your project.
6. Communication and Customer Service
Effective communication is essential to the success of any electrical project. Look for a commercial electrician who is responsive, attentive, and willing to answer your questions and address your concerns. This will help ensure that you are on the same page throughout the project and that any issues are resolved promptly and professionally.
Additionally, consider the electrician's overall customer service. Are they friendly and approachable? Do they provide clear and detailed explanations of their work? A positive customer service experience can make the entire project run more smoothly and help build a lasting professional relationship.
7. Availability and Scheduling
Before committing to a commercial electrician, discuss their availability and scheduling to ensure that they can complete your project within your desired timeframe. Keep in mind that some electricians may have a longer lead time or limited availability due to high demand, so it's essential to start your search early and be prepared to adjust your timeline if necessary.
8. Pricing and Quotes
Obtaining quotes from multiple electricians can help you compare costs and make an informed decision. When comparing quotes, consider not only the total price but also the scope of work, the materials used, and any warranties or guarantees offered. Remember that the cheapest quote may not always be the best option, as it could indicate lower-quality materials or a lack of experience.
9. Electrical Permits and Inspections
Depending on the scope of your electrical project, you may need to obtain permits and schedule inspections to ensure compliance with local and national electrical codes. A professional commercial electrician should be familiar with these requirements and be able to guide you through the process. In some cases, the electrician may even handle the permit application and inspection scheduling on your behalf.
10. Conclusion: Making an Informed Decision
Choosing the right commercial electrician for your needs is a critical decision that can impact the success of your electrical project and the safety of your property. By considering factors such as licensing, experience, reputation, insurance, communication, availability, and pricing, you can make an informed decision and feel confident in your choice. Remember that investing in a professional, experienced, and reputable commercial electrician is an investment in the safety and success of your business or property.
commercial electrician
commercial electrician mornington