Decorating your kid's room gives you a chance for artistic expression. It is like painting a blank page with posters, paint, and furniture. You can take help from interior designers in Kochi, but it will be much better if you do it on your own.
You can make use of some cool kids room decorating ideas we're going to share with you here today. Decorating your kid's room has to go beyond just looks. The accessibility of the entire room matters too and you have to ensure that the kid should be able to move freely in the room.
Decide beforehand what you want your kid's room to look like. Ask yourself 'What do I want my kid to see in this room?' There are some ideas you can incorporate into your plan and make the most of the space you're trying to decorate.
Let's delve into some kids room decorating ideas you should keep in mind.
#1. Make sure you give your kid enough space to walk and play. It shouldn't be as big as a playfield, but open enough for the kid to move around and not get stuck. Kids move according to their instincts, not intellect. So you can use your developed intellect to tackle the issue. While you're positioning things in your kid's room, you must make some free space for your kid and make enough room so that you can sit with them on the floor and play. This is because decorating isn't just about paints and hues, it's also about the overall set-up of the space.
#2. The colour of the room has a psychological effect on the kid. Carl Jung is the pioneer of Color Psychology, and since then, the studies on colours have been crystal clear. In the 2000s Glasgow installed blue street light and observed a decrease in criminal activities.  So make sure you choose the colour of your kid's room carefully. Blue is a spiritual colour. It makes us feel content and peaceful. A University of Texas study revealed that a blue coloured room boosted productivity better than white and red rooms. The colour yellow is observed to boost creativity. Dr Wright's Color Affects System claims that the colour yellow boosts creativity more than any other colour. She also warns that too much yellow can actually plummet the self-esteem, so use it in moderation.
#3. Now that we've discussed enough the colour of the room, the time is ripe to talk about the furniture. Be aware of the space you want to give your kid to move around. Get a cradle which is firm, not soft. The baby will sink in the soft mattress which may lead to problems. Kids like to swing as they are sleeping, or pretending to sleep. Get a cradle which swings. It will be comforting for your kid and will be of great help to your hands too. You can plan for the future and also get a small table for your kid. Kids start moving at the end of the first year. So make sure you have the room adequately filled with toys to keep them busy.
#4. Give the room an organized vibe by paying attention to the symmetry. Install some open cabinets which look like chess boards. You can have that on one wall and then the other wall can have stickers of other chess pieces.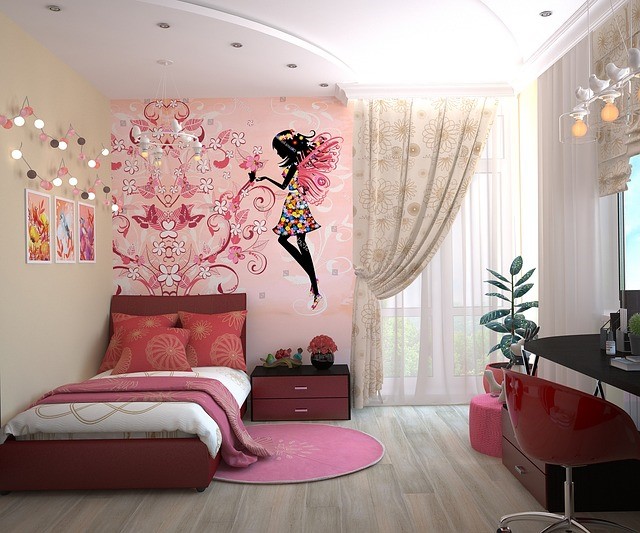 #5. You should definitely hang some paintings on the walls. Kids grow up by reacting to the stimulus around them. You can install some pictures or posters of cartoon characters, animals, or Starry Night by Vincent van Gogh.
#6. Using a Peel and Stick wallpaper helps you upgrade your kid's room. When your kid grows up to be a teenager or an adult, you can change the room's design by simply removing the wallpaper and sticking your grown-up son or daughter may prefer at that point of time. Not only are these stickers easy on the pocket, but they will also definitely make your kid feel involved in the design. Pay attention to the ceiling when your kid is younger than one year. Paint the ceiling white and stick a piece of wallpaper there to give your kid a nice view to look at when he wakes up every morning. Make it interesting by incorporating different colours or changing it every once in a while. You can use butterfly mobiles. They are easy to remove and are kids absolutely love them.
#7. You can make use of pillows, drapes, and duvets to form a pattern in the room. The fun part is that you get to alter the look of the room every now and then just by changing these. It gives the room a crisp look and is also pretty affordable. If you, or your kid, get bored with the design or pattern you can always do little replacements with the shapes of the pillows and it will become a new design for your kid's eyes to feast on.
#8. Galvanized steel is inexpensive. You can use those sheets to make a sticking board for your kid. Magnets stick to it so you can make use of its properties. Also, it is very interesting to stick things and designs and little pieces of chart papers on the board and have fun with it.
#9. You can make use of one wall as a record of your kid growing up. You can paint it white, or any colour will make the handprint on it visible. Put your kid's handprint on the wall and see it grow with time. It's got to be amazing, trust us.
#10. If your kid is a collector, most of the kids are, you can hand their collections with a string and form a border with it. You can border the windows or even the room. It looks very appealing and innovative.
Make use of your kid's room as an expression of yourself as a parent. Your kids will thank you for it when he grows up to learn what you did. There are some interesting Interior Designers if you really want some help with the design. You know what you want your kid to have a room that has all of you in it. Use these designers to help you execute your ideas.
Author Bio: Tony John is a renowned blogger from India who owned popular blog websites like Indiastudychannel.com, Indiatravelblog.com, Techulator.com and a few others that have millions of page views per month. This blog was created in association with the leading interior designers. All opinions are my own. Thank you for supporting the brands.